CAUTION! Please read this.
---
Shree KanjiSwami's comments regarding Lalchandbhai
We have often been asked "Why are Lalchandbhai A Modi´s lectures being made available on AtmaDharma.com & AtmaDharma.org?"
The answer is "Because Lalchandbhai was a Samyag Drashti (Gnaani) and this has also been stated by Gurudev Shree Kanji Swami" in the following public lectures:
---
Some of Lalchandbhai's favourite sayings and verses)
1

Hu jananar chu, hu karnar nathi.
Jananaro janay che, kharekhar par janatu nathi. (a)

I am a knower, I am not a doer.
The knower is being known, in reality nothing else is being known.

(a) Lalchandbhai described this as the Essence of all Jainism
Click here to see Gurudev's vachanmrut on this topic.

2. Method Of Understanding Jain Scriptures

Whatever is described by the "Nishchay-nay" should be considered as true and its belief, as being true, accepted;
Whatever is described by the "Vyavhar-nay" should be considered as untrue and its belief, as being true, given up.

Nishchaynay vade je nirupan karyu hoy tene to satyarth mani tenu shradhan angikar karvu;
Vyavharnay vade je nirupan karyu hoy tene to asatyarth mani tenu shradhan chodvu. (Mokshmaarg Prakashak)
3. Root Cause Of Sansaar

Gatha 14, Purusharth Siddhi Upaay
Anvayarth:- Ae reete aa atma karmona karela ragaadi athva shariradi bhavothi sanyukt n hova chata parn agnaani jivone sanyukt jevo pratibhase che ane te pratibhas j sansaarna bijrup che.
4. How Gnaan Becomes Useful Or Harmful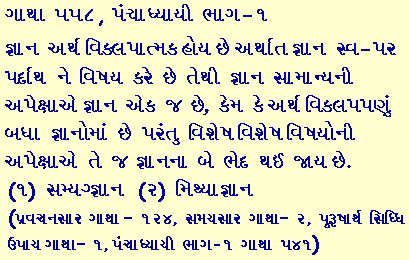 Gatha 558, Panchathyayi Part-1
Gnaan arth vikalpatmak hoy che arthat gnaan sva-per padarth ne vishay kare che tethi gnaan saamanyani apekshae gnaan aek j che, kem ke arth vikalppanu batha gnaanoma che parantu vishesh vishayoni apekshae te j gnaanna be bhed thay jay che. (1) Samyagnaan (2) Mithyagnaan
(Pravachansar Gatha-124, Samaysaar Gatha-2, Purusharth Siddhi Upaay Gatha-1, Panchadhyayi Part-1 Gatha-541)
5. Essential Relationship

Gatha 356 - 365, Samaysaar Tika
Jenu je hoy te te j hoy, jem atmanu gnaan hovathi gnaan te atma j che.
6.
luxan luxyane j prasidh kare aluxyane nahi ... aane gnaan khevay.
7.
"raagi" jiv, "gnaanmai" che, ne "raagmai" nathi.
8.
"dukhii" jiv, "sukhmai" che ne "dukhmai" nathi.
9.

oupje moh vikalpthi samast aa sansar.
Antarmukh avlokta vilay thata nahi var
(Shreemad Rajchandra)
10. The Characteristics of Knowledge

parluxabhavarthum chanchaltarahitum achalam gnaanum.
(Shree Tattvagnaan Tarangini kalash-42, Subhchandra Aacharyarachit.)
11.
thava yogya thay che, jananaro janay che.

To read Shree Lalchandbhai's lectures and quotes see the